Born from JHT Inc, Gentleman Squid Studio began as a group of seven people in a sub division of their parent company in Orlando, Florida.
Gentleman Squid Studio is an indie developer that has one title already out, Three Dead Zed and one title releasing March 27th (that's tomorrow!), Rise of the Ravager. I personally fell in love with the established zombie puzzler and was super intrigued with the game style playable in their new release.
Launched just over a year ago for PC gamers, Three Dead Zed hit the Xbox Live Indie market, October 14th, 2012. Costing 400 MS ($5), this indie game might seem expensive but it rewards you with hours and hours of gameplay. It was one of the first things on my active downloads list after PAX. This isn't your typical zombie game. Three Dead Zed puts you in control of three different special zombies all being experimented on in the lab. You manage to escape captivity and are fighting for freedom. And don't forget to save the kittens! A simple puzzler that has a similar feel to 'Splosion Man with a medium difficulty this game is great for all ages. Although the graphics, cartoony as they may be, are bloody and can be viewed as "Not Suitable for Children"; Parents beware!
I wanted to know more about the inspiration of Three Dead Zed and the beginning of Gentleman Squid Studio. Luckily for me Jen McKeown, an artist for the developer, was there to answer a few of my questions. I enquired about where the inspiration came from for this "zombie" game and to my delight; the answer was not the usual generic answer. The answer opened up to me how the company developed out of a side project of a programmer and into the game I had just played.
"Well it all started with one of our programmers asking himself, 'I wonder if I can program this.' He drew up silly little characters and began working at it. Simply making the characters move around. Eventually someone took the idea to our parent company and said, 'Hey! Look at what YOUR guys can do. Want to invest?' And that's where it all began." – Jen McKeown
Personally blown away by more than a sufficient answer I implored more into any more projects on the way. Being such a small team, more than a game a year is a difficult task. This is where Rise of the Ravager comes into the picture.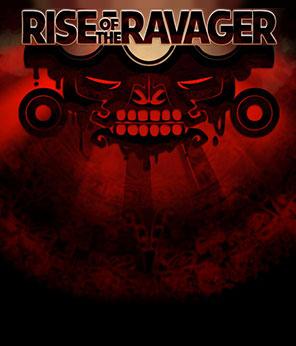 Set to release Wednesday March 27th, 2013, Rise of the Ravager takes a unique on the horde type of game. Using a unique mix of colors inspired by Mesoamerican cultures and a missile command design, Rise of the Ravager pits you against waves and waves of colorful enemies falling upon you despite your best efforts to fend them off. One of the most interesting and greatest features of this title, is the four player local (couch) co-op ability. Invite a few buddies and have a great party with this re-playable game.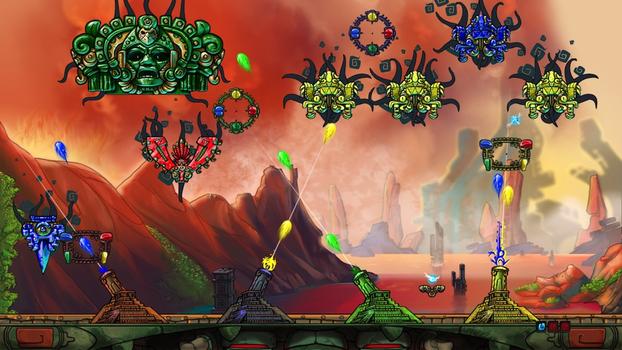 By the end of my experience, I was extremely impressed by Gentleman Squid Studio's welcoming feel at their booth at PAX East and hope to see them again. I can't wait to see what pops out of their heads next.